Philip Houtz
PhD student in Entomology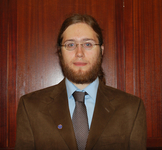 My primary interests are the processes by which the midgut epithelium is continually renewed by intestinal stem cell (ISC) division and differentiation. I will determine how microbial interactions influence the ongoing processes of these cells and their lineages. I aim to study and characterize these interactions in each region of the gut and thereby determine the underlying mechanisms that control midgut regionalization in Drosophila melanogaster.

I graduated from the University of Kentucky with a B.A. in Agricultural Biotechnology and a minor in both Entomology and Chemistry. As an undergraduate, I studied the interactions between an ichneumonid parasitoid wasp, its tobacco budworm host, and viruses affecting both species in the laboratory of Dr. Bruce Webb.

---