Intestinal homeostasis in health and disease
The gut is a central organ of all Eumetazoans, and is fascinating for multiple reasons: First, it insures the digestion of food and modulates the entire host metabolism and physiology. In addition, it renews itself constantly through the activity of intestinal stem cells and is therefore a tissue in constant development. Finally, the gut lumen is one of the most dense microbial ecosystem and the gastro-intestinal (GI) tract is in constant interaction with both beneficial and pathogenic microbes. This implies that the Gl tract succeeds everyday to achieve a real "tour de force", keeping in balance these different tasks and maintaining its homeostasis. Sadly, such a complex intricate system is also at risk, and losses in intestinal homeostasis result in a broad range of pathologies comprising inflammatory disorders (IBD) and cancer. However, the mechanisms underlying intestinal homeostasis, as well as the interplay between microbes and the gut epithelium are not well understood. We use the fruit fly as a model to characterize the genetic network that underlies intestinal homeostasis. In addition we try to characterize how infection or alterations in that network affect gut physiology and host health.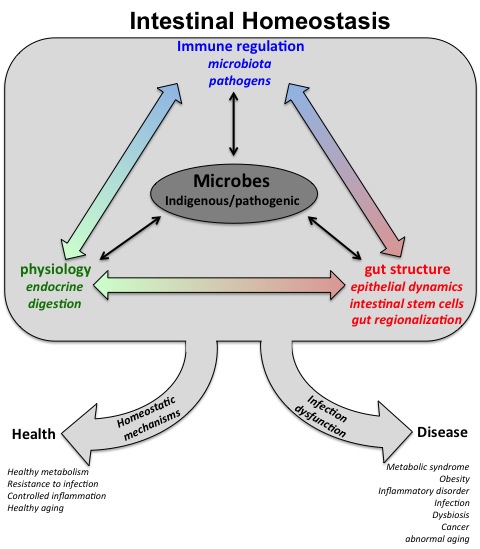 A model of gut homeostasis: Microbes are central to intestinal homeostasis and affect both physiology, immunity and epithelium renewal. A tight equilibrium is established and required to maintain health. A failure in any aspect of that interaction leads to intestinal disorders such as inflammatory pathologies or oncogenic transformation. We are trying to understand the molecular determinants that underlie the coordination between these distinct facets of gut physiology.

a- Regulation of Intestinal Stem Cells by microbes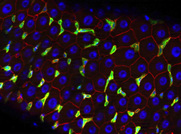 We have demonstrated that both pathogenic and indigenous microbes affect the rate of epithelium renewal in the gut and the behavior of intestinal stem cells. We aim to characterize the genetic network that links bacterial presence to intestinal stem cell activity. We focus on the link between the immune response and epithelium renewal, and how this link is affected in disease such as cancer.



image: intestinal stem cells (green) and the gut epithelium (blue: nuclei, red: junctions)

---
b- Intestinal regionalization in health and disease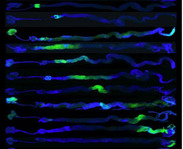 We have uncovered an unexpected complexity of the adult Drosophila midgut that is subdivided in distinct regions. We want to understand what the role of these regions is, how they are determined and maintained. Interestingly, both the immune response and the activity of intestinal stem cells vary in these regions. We aim to characterize how regional identity impacts local homeostasis, and how that in turn affects the development of intestinal pathologies, that are often regional.



image: enhancer trap analysis of intestinal regionalization

---
c- Systems level analysis of epithelial dynamics and intestinal homeostasis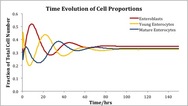 We aim to characterize intestinal homeostasis at a systems level, and adapt to our system classical approaches of quantitative biology, ranging from single cell analysis to modeling.




image: modelling of epithelial dynamics in the gut of Drosophila.

---